Computer Course Outline
we are providing best computer training programs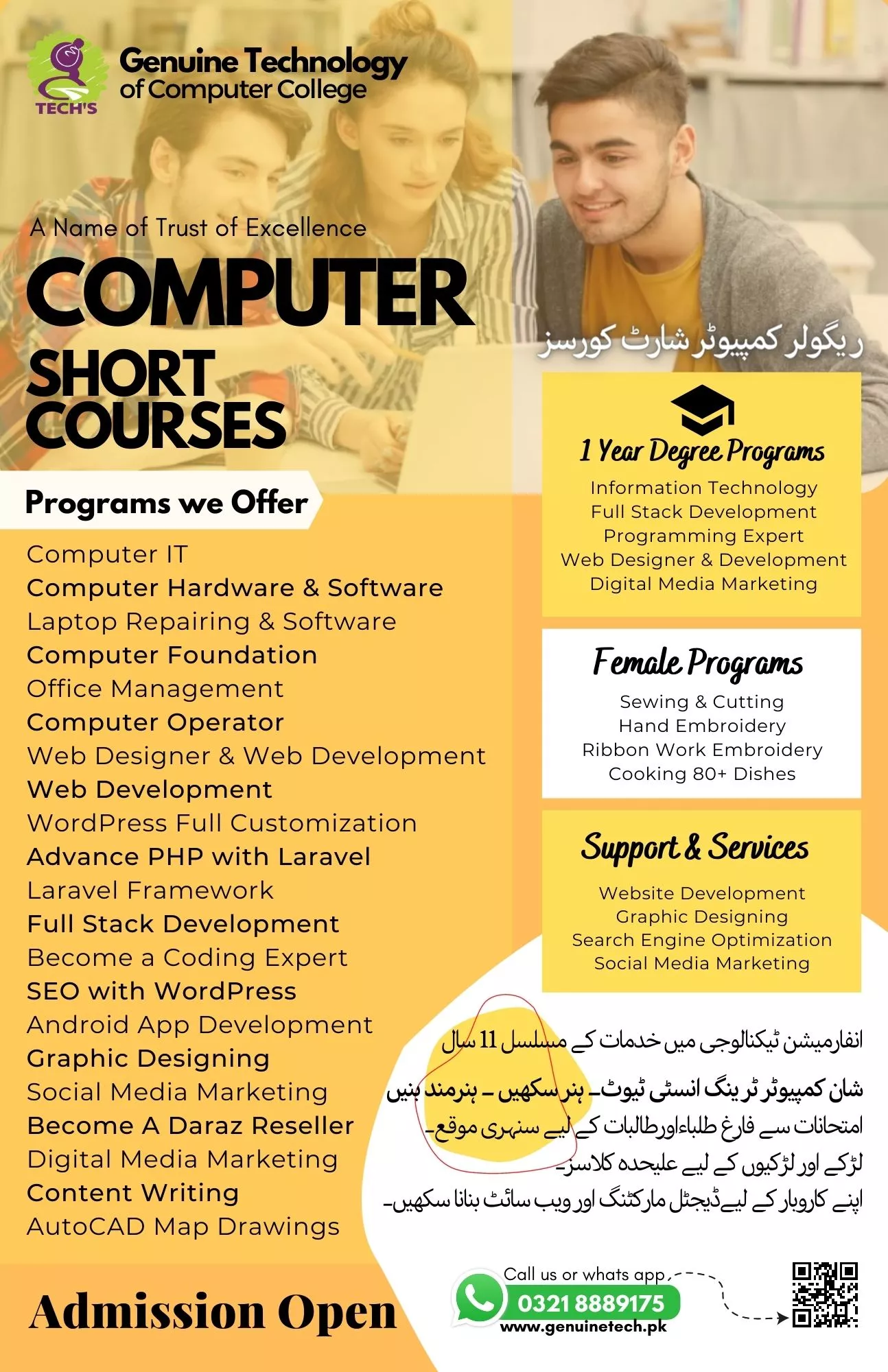 Computer Hardware and Software
Computer hardware and software serve as comprehensive sources of information regarding various essential components. These include the motherboard, ports, slots, processors, power supply, RAM, hard disk drives (HDD), solid-state drives (SSD), and other electronic components.
Laptop Repairing
For beginners seeking to gain knowledge on laptop maintenance and repair, "Laptop Repairing" stands out as an excellent short course. This course covers essential topics such as laptop motherboard maintenance and repair, power supply troubleshooting, body repairing techniques, screen replacement methods, and comprehensive laptop servicing.
Office Management
Learn the essential skills of utilizing MS Word, MS Excel, and MS PowerPoint effectively. Dive into the world of data entry, data mining, and data scraping techniques. Discover the intricacies of InPage software, along with Urdu, English, and Arabic typing proficiency. Master the art of Windows and Office installation for a seamless computing experience.
Foundation
Explore the functionalities of popular Microsoft applications like MS Word, MS Excel, and MS PowerPoint. Gain proficiency in utilizing these tools for various tasks such as document creation, data analysis, and dynamic presentations. Additionally, learn the process of installing Windows and Office to ensure a smooth and efficient computing experience.
Graphic Designing
Graphic Designing is a highly regarded course that focuses on various aspects of design, including poster design, logo design, book design, and company profile creation. In Lahore, Pakistan, numerous software options are available for designing; however, Adobe Photoshop and CorelDRAW are considered the best software for this purpose.
Web Development
If you wish to add data to Google Search Console, it is essential to learn this software to enhance the development process and create high-quality basic-level web pages. For website development, programming languages such as HTML, CSS, and Bootstrap are utilized for front-end development. Front-end development involves designing websites, while back-end development focuses on the functionality of web pages.
Full Stack Development
Full Stack Development has many types of languages for coding:
Advance JavaScript
PHP with Laravel Framework
React JS
Node JS
MySQL and MongoDB
Digital Media Marketing
This course is highly recommended for students who are interested in web development. learn web development, you can acquire the skills needed to create websites. If you aim to improve the ranking of your website, it is crucial to learn about search engine optimization (SEO), including ranking keywords, long-tail keywords, and tags, among other essential Google tools that contribute to website ranking. For those seeking to earn money online, Google AdSense serves as an excellent solution for generating income through online channels.
Social media marketing has become increasingly popular among students, teachers, and professionals alike. When aiming to achieve a high ranking for a post or content, social media marketing proves to be an excellent solution. Platforms such as Facebook, Instagram, TikTok, Twitter, LinkedIn, Pinterest, Reddit, and various other public posting websites play a significant role in this regard.