Short Courses in Karachi
Best Karachi Computer Course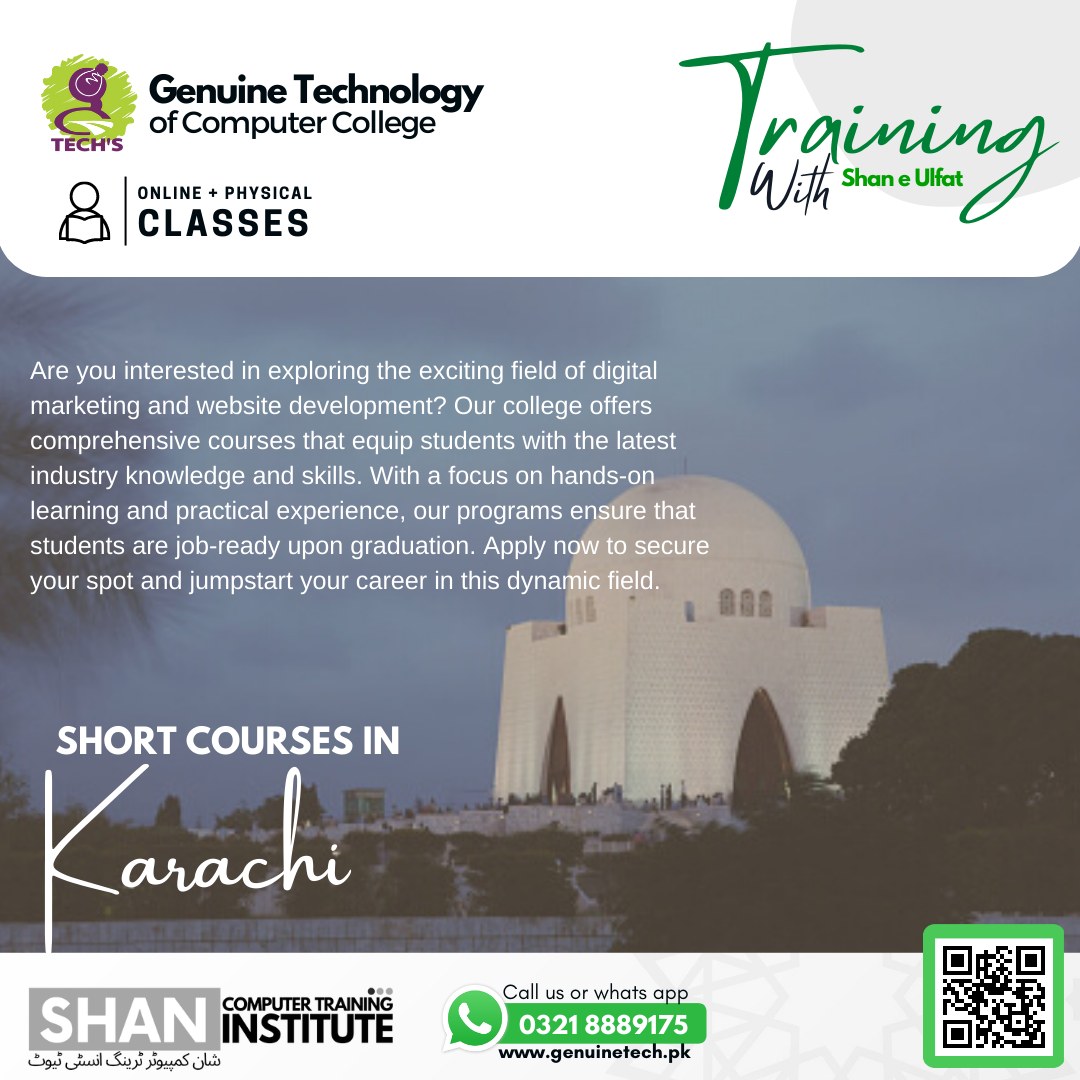 Best Short Courses In Karachi.
Here are some frequently asked questions (FAQs).
Q: Is Microsoft Office free?
A: No, Microsoft Office is not free. However, a free trial version is available for users to test the software before making a purchase.
Q: Can I use Microsoft Office on multiple computers?
A: It depends on the type of Microsoft Office license you have. If you have a one-time purchase of Microsoft Office 2019, you can install the software on one computer. If you have a subscription to Microsoft 365, you can install the software on up to five computers.
Q: What is the difference between Microsoft Office and Microsoft 365?
A: Microsoft Office is a one-time purchase of productivity software that includes applications such as Word, Excel, PowerPoint, and Outlook. Microsoft 365 is a subscription-based service that includes access to the latest versions of Microsoft Office, as well as additional online services and cloud storage.
Q: Can I access my Microsoft Office documents on my mobile device?
A: Yes, Microsoft Office documents can be accessed on mobile devices through the Microsoft Office mobile app, which is available for iOS and Android.
Q: Is an SEO course online or in-person?
A: Both online and in-person SEO courses are available. Online courses offer the flexibility to study at your own pace and are often more affordable. In-person courses provide a more hands-on learning experience and the opportunity to interact with instructors and other students.
Q: How long is an SEO course?
A: The length of an SEO course can vary, with some courses lasting a few weeks, and others lasting several months. The length of the course will depend on the depth of coverage and the level of detail provided.
Q: How much does an SEO course cost?
A: The cost of an SEO course can vary widely, from a few hundred dollars for an online course to several thousand dollars for a comprehensive in-person program. The cost will depend on the level of instruction, materials provided, and the reputation of the instructor or training program.
Q: What kind of certification or credential will I receive upon completing an SEO course?
A: The type of certification or credential you receive will depend on the course provider. Some courses may offer a certificate of completion, while others may provide a professional designation or certification. It is important to research the course provider and their reputation to ensure that the certificate or credential is recognized and valued in the industry.
Q: What is a computer IT course?
A: A computer IT course is a type of course that teaches individuals about the various aspects of information technology (IT) and computer systems.
Q: Who is the course suitable for?
A: The course is suitable for individuals who are new to computers, as well as those who have some experience but want to gain a deeper understanding of the subject.
Q: What topics does the course cover?
A: The course can cover a wide range of topics, including hardware and software systems, networking, programming, and database management.
Q: How is the course delivered?
A: The course may be delivered in a variety of formats, including online, in-person, or as a combination of both.