Short Course in Gujranwala
Best Gujranwala Computer Course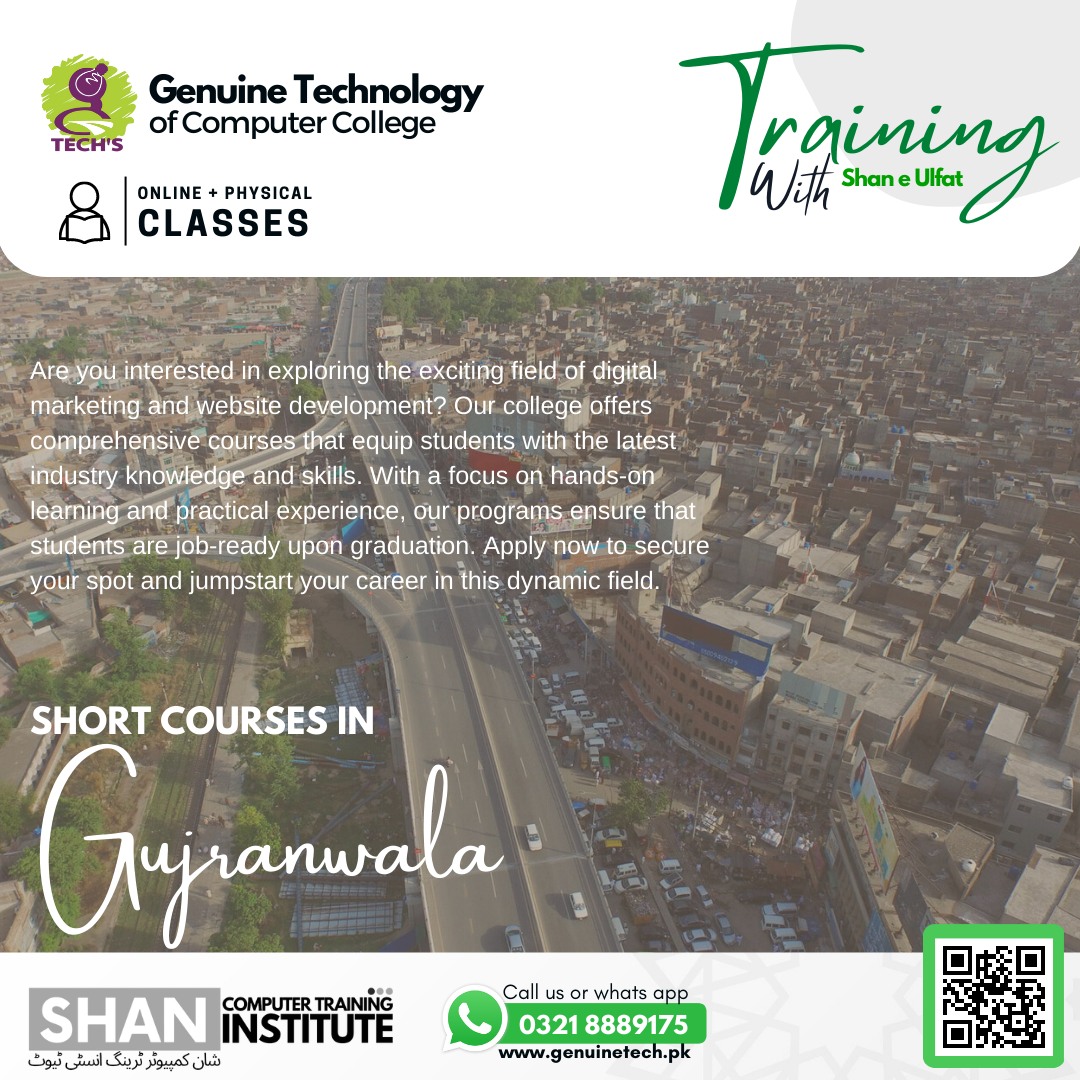 Best Short Courses In Gujranwala
Here are some frequently asked questions about the short courses (FAQs).
Become an Expert In Web Design & Development.
The Expert in Web Design & Development course is designed for individuals who want to gain in-depth knowledge and expertise in the field of web design and development. The course covers various aspects of web design and development, including web design principles, user experience design, front-end development, back-end development, database design, and content management systems. Participants will learn how to design and build responsive and dynamic websites and will be introduced to popular programming languages such as HTML, CSS, JavaScript, and PHP. The course will also cover best practices in website optimization, testing, and deployment, and will provide hands-on experience working on real-world projects. The course is ideal for individuals who are seeking to become professional web developers, or who want to improve their skills and knowledge in web design and development. The course duration may vary, but it typically takes several months to a year to complete, depending on the program structure and workload. Upon completion, participants may receive a certificate of completion and may be able to pursue careers in web design and development or work as freelance consultants.
Introduction to Web Development: An overview of the world of web development, including the basics of how websites are built and the different technologies used.
HTML and CSS: Students learn how to create the structure and layout of a website using HTML and style it using CSS.
JavaScript: Students will learn the basics of JavaScript, including how to add interactive elements to a website.
Content Management Systems (CMS): An introduction to using popular CMS such as WordPress to build and manage a website.
Website Design: Students will learn how to design a website, including how to choose colors, fonts, and layouts that are aesthetically pleasing and easy to navigate.
Website Development Tools: An introduction to the various tools and platforms used in web development, including text editors, development environments, and version control systems.
Website Deployment: Students will learn how to publish a website and make it live on the internet.
Project: A hands-on project where students apply the skills and knowledge they have learned to build their own website from start to finish.
Q: What is a website development short course?
A website development short course is a program designed to teach individuals the basics of creating and building a website. The course covers various aspects of web development, including HTML, CSS, and JavaScript, as well as the use of content management systems (CMS).
Q: Who is this course suitable for?
This course is suitable for individuals who are just starting their careers in the field of web development, as well as those with no prior experience.
Q: What are the prerequisites for this course?
There are no prerequisites for this course. However, having a basic understanding of computer usage and some experience with computer programming languages is recommended..
Q: How long does the course take?
The duration of the course may vary, but it typically takes anywhere from a few weeks to a few months to complete.
Q: What will I learn in this course?
In this course, you will learn the basics of HTML, CSS, JavaScript, and how to use a content management system (CMS) such as WordPress to build and manage a website. You will also learn about website design and development tools, as well as website deployment.
Q: What kind of job can I get after completing this course?
Upon completion of the course, graduates may pursue careers in web development, web design, digital marketing, and other related fields.
Q: What will I receive upon completion of the course?
Upon completion of the course, you will receive a certificate of completion. Some courses may also offer additional certifications or qualifications that are recognized in the industry.
Introduction to Web Design & Development
Overview of web design and development
Web design principles and user experience design
Front-end Development
HTML, CSS, JavaScript, and responsive web design
Web design tools and frameworks
Back-end Development
Server-side scripting, databases, and dynamic web pages
PHP, MySQL, and web servers
Content Management Systems
WordPress, Joomla, and other popular CMS platforms
Customizing and deploying CMS websites
Website Optimization and Deployment
Website testing and debugging
Search engine optimization and website security
Project Work
Hands-on experience working on real-world projects
Applying learned concepts and skills to real-world problems.
Digital Marketing Short Course In Gujranwala
The Digital Marketing course is designed to provide individuals with in-depth knowledge and practical skills in the field of digital marketing. This comprehensive course covers the latest digital marketing techniques, including search engine optimization (SEO), pay-per-click (PPC) advertising, social media marketing, content marketing, email marketing, mobile marketing, and web analytics. The course covers both theoretical concepts and practical skills, allowing individuals to gain hands-on experience working on real-world projects. Whether you're a beginner or have some experience in digital marketing, this course is designed to help you improve your skills and knowledge, and reach your professional goals.
Introduction to Digital Marketing
Overview of digital marketing and its importance
Understanding the digital marketing landscape and key channels
Search Engine Optimization (SEO)
Keyword research and optimization
On-page and off-page optimization techniques
Link building strategies
Pay-Per-Click (PPC) Advertising
Setting up and managing Google AdWords campaigns
Understanding the basics of PPC bidding and targeting
Social Media Marketing
Setting up and managing social media profiles
Creating and executing social media campaigns
Measuring the success of social media campaigns
Content Marketing
Content creation and distribution strategies
Content marketing techniques such as blogs, videos, and infographics
Measurement and optimization of content marketing efforts
Email Marketing
Setting up and managing email campaigns
Email list building and segmentation
Measuring the success of email campaigns
Mobile Marketing
Understanding the importance of mobile in digital marketing
Creating and executing mobile campaigns
Measurement and optimization of mobile campaigns
Web Analytics
Understanding web analytics and tracking metrics
Setting up and interpreting Google Analytics reports
Optimizing campaigns based on analytics data
Project Work
Attain experience by working on real life digital projects
Applying learned concepts and skills to real-world problems.