Short Course in Sialkot
Best Sialkot Computer Course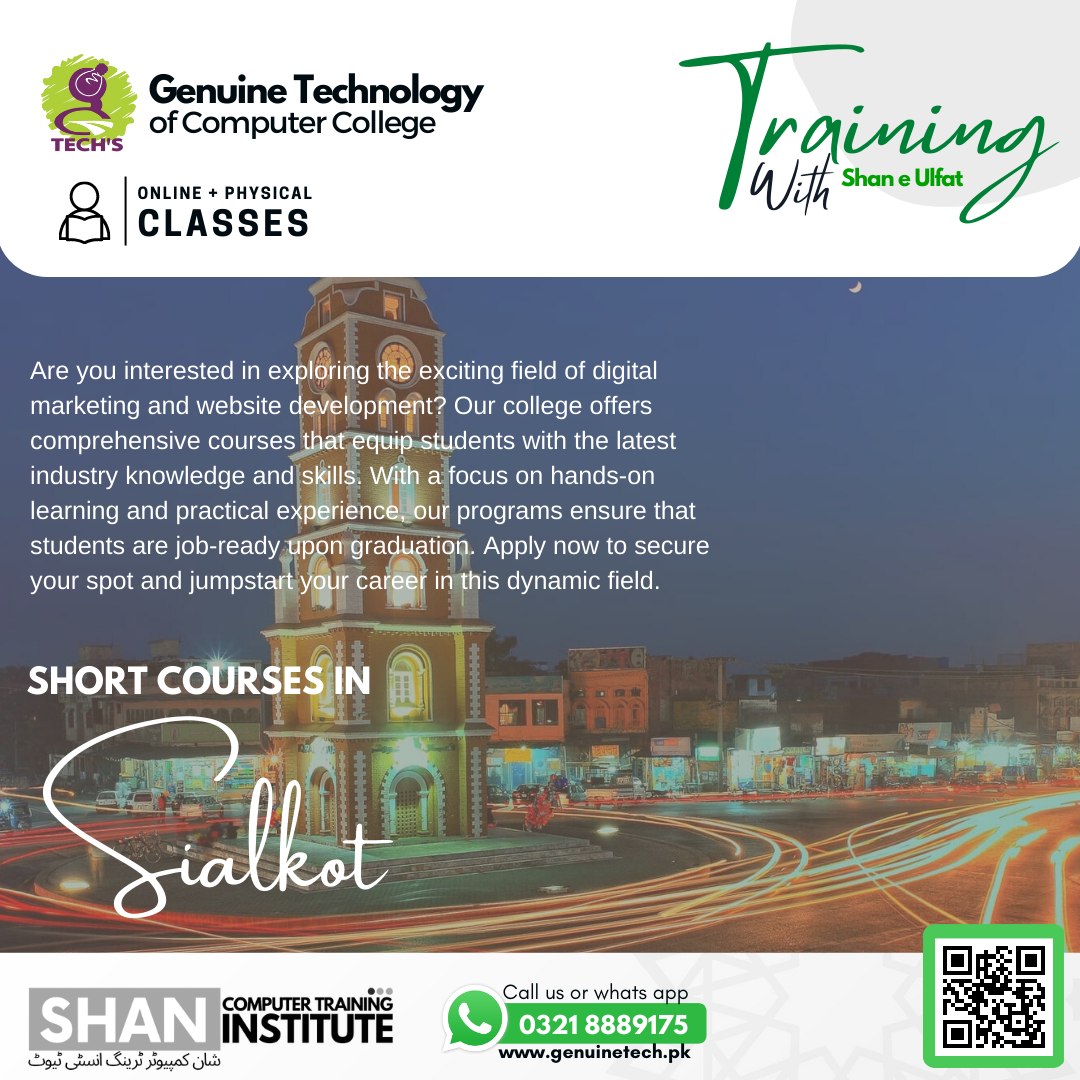 Best Short Courses in Sialkot
Here are some frequently asked questions about short courses (FAQs).
Q: What is WordPress?
A: WordPress is a free and open-source content management system (CMS) used for building websites and blogs.
Q: How does WordPress work?
A: WordPress is built using PHP and a MySQL database. It allows users to create and manage website content through a web-based interface, without needing to know how to code.
Q: Is WordPress easy to use?
A: WordPress is known for its user-friendly interface and intuitive design. Many users find it easy to use, even if they have limited technical skills.
Q: How much does WordPress cost?
A: WordPress is free to download and use. However, hosting a WordPress site and purchasing premium themes and plugins can incur additional costs.
WordPress is a popular and widely used content management system that allows individuals and businesses to create and manage websites and blogs with ease. It is free and open-source, which means that it can be used by anyone, regardless of their technical skills or budget. WordPress is built using PHP and a MySQL database, and its user-friendly interface makes it easy for users to create and manage website content through a web-based interface. With WordPress, users can customize their site to match their specific needs and preferences by choosing from a wide range of free and paid themes and plugins. Whether you're building a simple blog or a complex e-commerce site, WordPress has the flexibility and functionality to support your website's growth and success. While WordPress is generally considered to be a secure platform, it is important to take steps to keep your site secure, such as regularly updating the core software and plugins, and using strong passwords. With its ease of use and versatility, WordPress is a great choice for anyone looking to build a website or blog.
Q: What is an AutoCAD course?
A: An AutoCAD course is a type of course that teaches individuals how to use the AutoCAD software for 2D and 3D computer-aided design and drafting.
Q: Who is the course suitable for?
A: The course is suitable for individuals who are interested in learning how to use AutoCAD for drafting and design purposes, including architects, engineers, construction professionals, and interior designers.
Q: What topics does the course cover?
A: The course covers the basics of AutoCAD software, including creating and editing 2D drawings, using layers and blocks, working with text and dimensions, and using the software's advanced features such as 3D modeling.
Q: How is the course delivered?
A: The course may be delivered in a variety of formats, including online, in-person, or as a combination of both.
Graphic Designing short course in Sialkot.
Q: What is graphic design?
A: Graphic design is the process of creating visual content to communicate messages and ideas. This can include logos, brochures, websites, and other forms of visual media.
Q: What software do graphic designers use?
A: Graphic designers commonly use software such as Adobe Creative Suite (Photoshop, Illustrator, InDesign), CorelDRAW, and Sketch.
Q: What is the importance of a graphic designer?
A: A graphic designer is responsible for creating visual content that effectively communicates a message or idea. They work with clients to understand their needs and use their creative skills to bring their vision to life.
Q: What skills are needed to be a graphic designer?
A: Graphic designers should have strong creative and technical skills, including proficiency in design software, an eye for color and composition, and the ability to communicate effectively with clients.
Q: What is the difference between graphic design and web design?
A: Graphic design encompasses a wide range of visual media, including print and digital. Web design specifically focuses on creating websites and web-based applications.
Q: What is Microsoft Office?
A: Microsoft Office is a suite of productivity software that includes programs for word processing, spreadsheets, presentations, and email.
Q: Which version of Microsoft Office is the most recent?
A: As of 2021, the most recent version of Microsoft Office is Microsoft Office 365.
Q: Is Microsoft Office available for free?
A: Microsoft Office is not available for free, but it can be purchased as a one-time purchase or as a subscription through Microsoft Office 365.
Q: Can Microsoft Office be used on multiple devices?
A: Yes, Microsoft Office can be installed on multiple devices, including personal computers, laptops, and mobile devices, with a Microsoft Office 365 subscription.