Short Course in Rawalpindi
Best Rawalpindi Course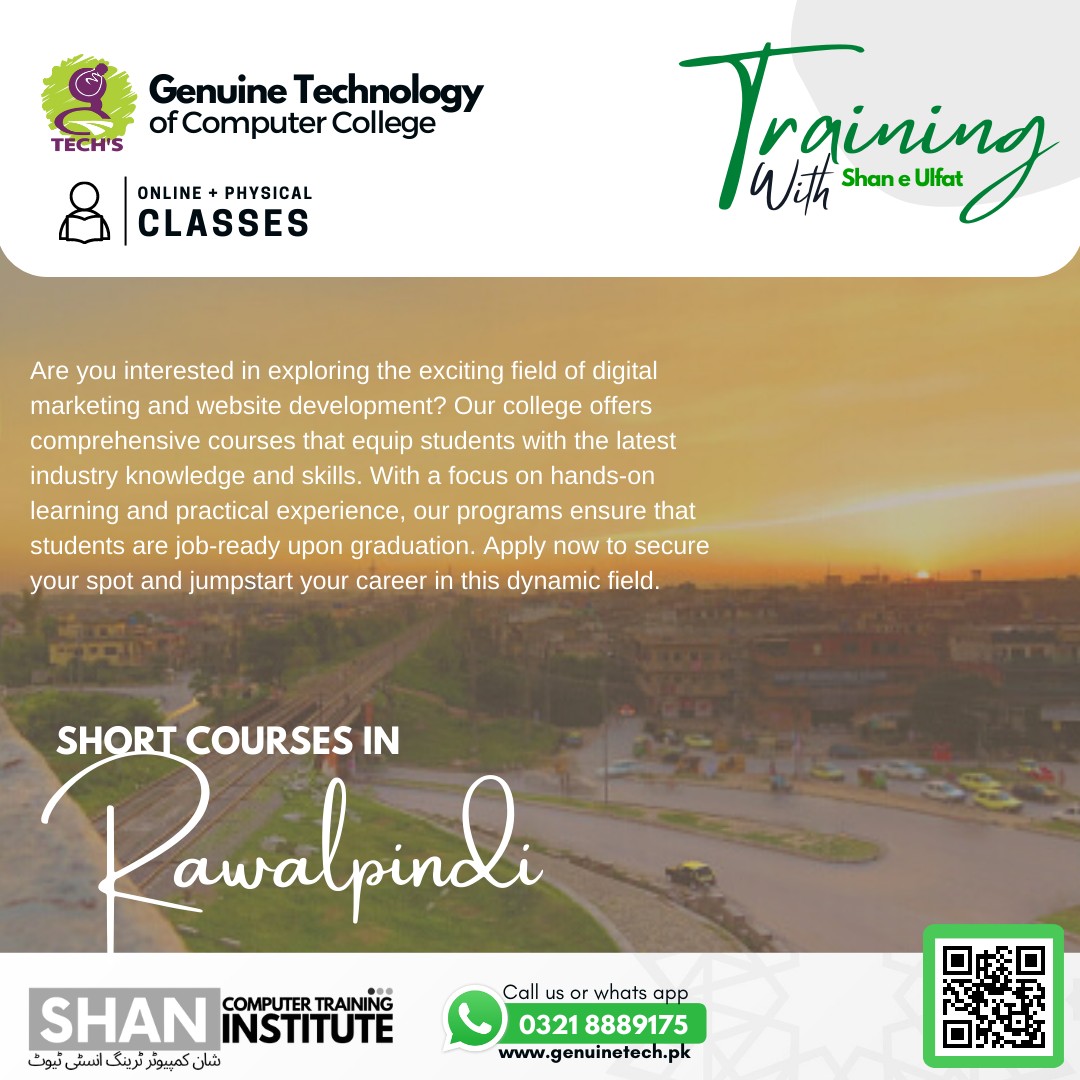 Best Short Courses In Rawalpindi.
Here are some frequently asked questions.
Q: What is Microsoft Office?
A: Microsoft Office is a suite of productivity software that includes applications for word processing, spreadsheets, presentations, and more. The most common versions of Microsoft Office include Word, Excel, PowerPoint, and Outlook.
Q: What operating systems is Microsoft Office compatible with?
A: Microsoft Office is compatible with Windows and Mac operating systems.
Q: Is Microsoft Office available as a one-time purchase or is it subscription-based?
A: Microsoft Office is available as both a one-time purchase and a subscription-based service. The one-time purchase is called Microsoft Office 2019, while the subscription-based service is called Microsoft 365.
Q: How can I purchase Microsoft Office?
A: Microsoft Office can be purchased online through the Microsoft website, or in person at a retail store.
Q: What is SEO?
A: SEO stands for Search Engine Optimization. It is the process of optimizing a website to improve its visibility and ranking in search engine results pages (SERPs).
Q: Who should take an SEO course?
A: An SEO course is suitable for anyone who wants to learn how to optimize a website for search engines, including digital marketers, website owners, and developers.
Q: What will I learn in an SEO course?
? A: An SEO course typically covers topics such as keyword research, on-page optimization, link building, technical SEO, and analytics. The course will also provide practical skills for implementing effective SEO strategies.
Q: What skills do I need to have before taking an SEO course?
A: Basic knowledge of website development and digital marketing is helpful, but not required, to take an SEO course. Most courses are designed for beginners and provide a comprehensive introduction to the subject.
Q: What is a computer IT course?
A: A computer IT course is a type of course that teaches individuals about the various aspects of information technology (IT) and computer systems.
Q: Who is the course suitable for?
A: The course is suitable for individuals who are new to computers, as well as those who have some experience but want to gain a deeper understanding of the subject.
Q: What topics does the course cover?
A: The course can cover a wide range of topics, including hardware and software systems, networking, programming, and database management.
Q: How is the course delivered?
A: The course may be delivered in a variety of formats, including online, in-person, or as a combination of both.