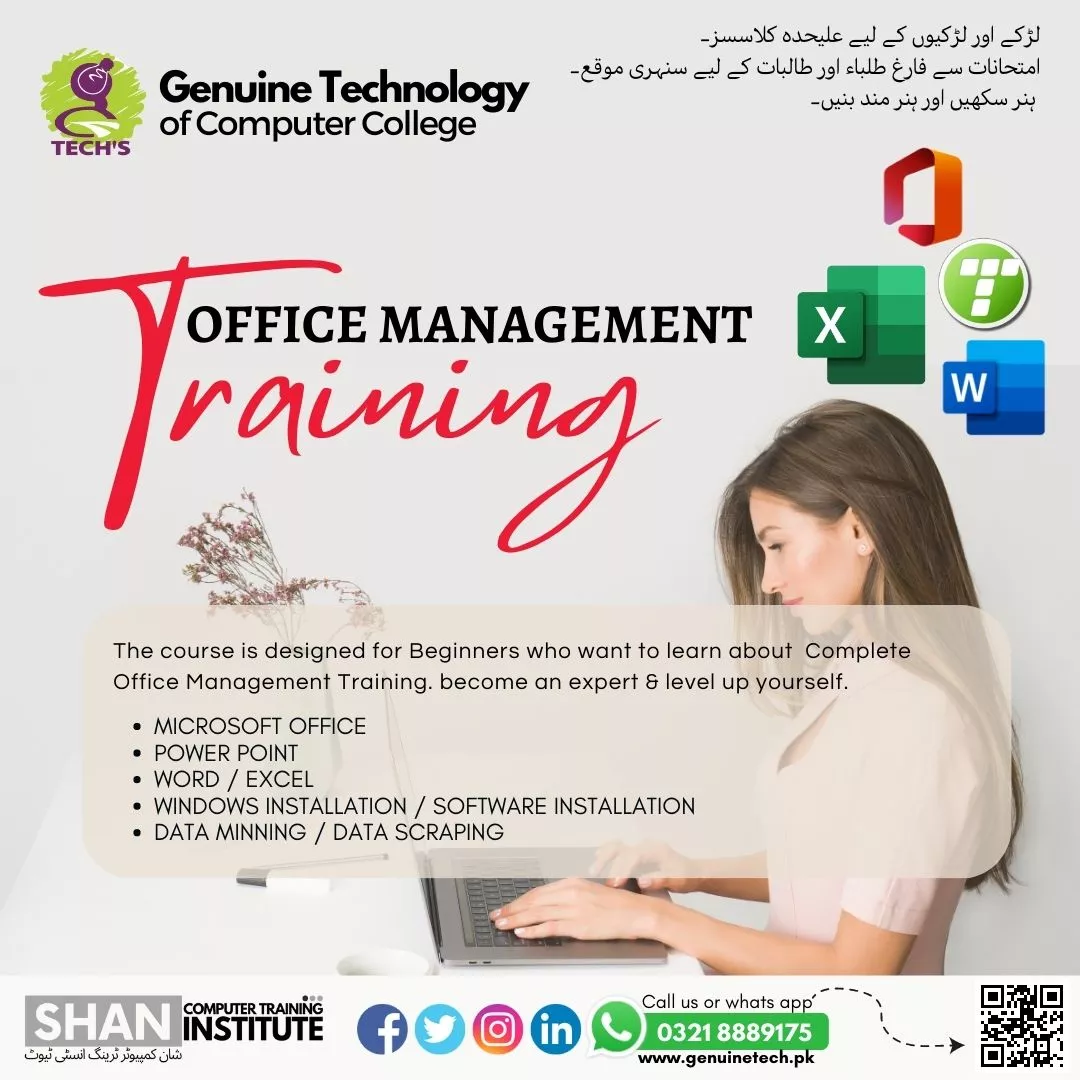 Male and Female Classes are Individual
Individual Classes for Every Student
100% Practical Work Only
Final Year Project Training
Tasks or assignments must be completed if the student will not understand how to make tasks or assignments training will not be complete.
Welcome to Genuine Tech! We are providing all type of Computer Short Courses Best trainings courses in Lahore Pakistan.
نوٹ:
ہمارا ادارہ اس وقت تک کام سکھاتا ہے جب تک طالب علم پراپر کام سکھ نہ جائے ۔ طالب علم کو اسکی مرضی کا کام سکھایا جائے گا۔
اگر کوئی طالب علم اپنے کسی پراجیکٹ پہ کام کرنا چاہتا ہے تو اسے اسی پراجیکٹ پہ کام سکھا دیا جائے گا۔
ہمارا ادارہ ہر طالب علم کوعلیحدہ علیحدہ سے کام سکھا تا ہے۔
طالب علم اکھٹے ہوتے ضرور لیکن سب کا کام علیحدہ ہوتا ہے۔
Microsoft Word Task & Assignment
Create A Professional CV / Resume
Experience Letter
Termination Letter
Offer Letter
Customization Table
Page Setup & Alignment
Page Margin & Padding
Page Printing
Documentation
Microsoft Excel
Customization Table
age Setup & Alignment
Page Margin & Padding
Page Printing
Formulas and Functions
Result Card
Sale Invoice
Installment Plan
Admission Form Listing
Student Card Listing
Sale Report
Cash Report
Income Tax
GST
Sale Tax
Roznamcha Register
PowerPoint
Create A PowerPoint presentation
Page & Setup Alignment
Page Margin & Setting
Data Entry
Web Research
Data Collection on Google Search
Different Companies Collection on Google or Website
Page & Setup Alignment
Page Margin & Setting
Data Mining
Data Scraping
Typing & Tech
Urdu Typing
English Typing
Arabic Typing
Math Typing
Other Skill
Create A Bootable USB
Windows Installation
Office Installation
FAQs
Top Short Courses Institutes In Lahore:
Here are some of Computer Courses Institutes In Lahore, Genuine Technology of Computer College and Shan Computer Trainings Institute is one of the best trainings place for IT students.
Learn Office Management basics can be learned as quickly three to six months, depending on students dedications he must be gave proper time to learn this computer course.
Genuine Tech is the best IT Training center in Lahore and is think about best training institute in Lahore for computer courses which provides computer training to brilliant basic to advance level.