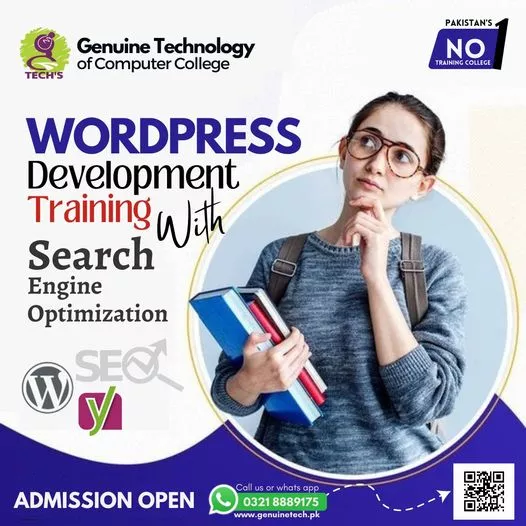 Male and Female Classes are Individual
Individual Classes for Every Student
100% Practical Work Only
Final Year Project Training
Tasks or assignments must be completed if the student will not understand how to make tasks or assignments training will not be complete.
Welcome to Genuine Tech! We are providing all type of Computer Short Courses Best trainings courses in Lahore Pakistan.
نوٹ:
ہمارا ادارہ اس وقت تک کام سکھاتا ہے جب تک طالب علم پراپر کام سکھ نہ جائے ۔ طالب علم کو اسکی مرضی کا کام سکھایا جائے گا۔
اگر کوئی طالب علم اپنے کسی پراجیکٹ پہ کام کرنا چاہتا ہے تو اسے اسی پراجیکٹ پہ کام سکھا دیا جائے گا۔
ہمارا ادارہ ہر طالب علم کوعلیحدہ علیحدہ سے کام سکھا تا ہے۔
طالب علم اکھٹے ہوتے ضرور لیکن سب کا کام علیحدہ ہوتا ہے۔
If you're looking for a short course on WordPress full customization training in Pakistan, there are many institutes that offer such courses. In this course, you will learn how to customize the look and feel of your WordPress website by modifying themes, plugins, and other features.
The course typically covers the following topics:
Introduction to WordPress: Understanding the basics of WordPress, its architecture, and how it works.
Installing and configuring WordPress: Installing WordPress on your local computer or server and configuring it for your needs.
Themes and Templates: Understanding WordPress themes, selecting a suitable theme, and customizing it to meet your requirements.
Plugins: Introduction to WordPress plugins, selecting suitable plugins, and customizing them.
Customizing WordPress: Understanding and modifying the WordPress loop, modifying WordPress templates, adding custom post types, and modifying the WordPress database.
Security and Maintenance: Best practices for securing your WordPress site, maintaining your WordPress site, and troubleshooting common issues.
Advanced topics: Advanced topics such as WordPress Multisite, creating custom WordPress plugins, and integrating third-party APIs.
Some of the popular training institutes that offer WordPress full customization training courses in Pakistan include:
Genuine Technology of Computer College
Shan Computer Trainings Institute
Institute of Business and Technology (IBT)
Punjab University College of Information Technology (PUCIT)
The duration and cost of the course may vary depending on the institute, so it's best to check with the specific institute for details.
FAQs
Top Short Courses Institutes In Lahore:
Here are some of Computer Courses Institutes In Lahore, Genuine Technology of Computer College and Shan Computer Trainings Institute is one of the best trainings place for IT students.
WordPress Full Customization Trainings basics can be learned as quickly three to six months, depending on students dedications he must be gave proper time to learn this computer course.
Genuine Tech is the best IT Training center in Lahore and is think about best training institute in Lahore for computer courses which provides computer training to brilliant basic to advance level.