Computer Short Courses in Punjab Pakistan
Short Course in Punjab Pakistan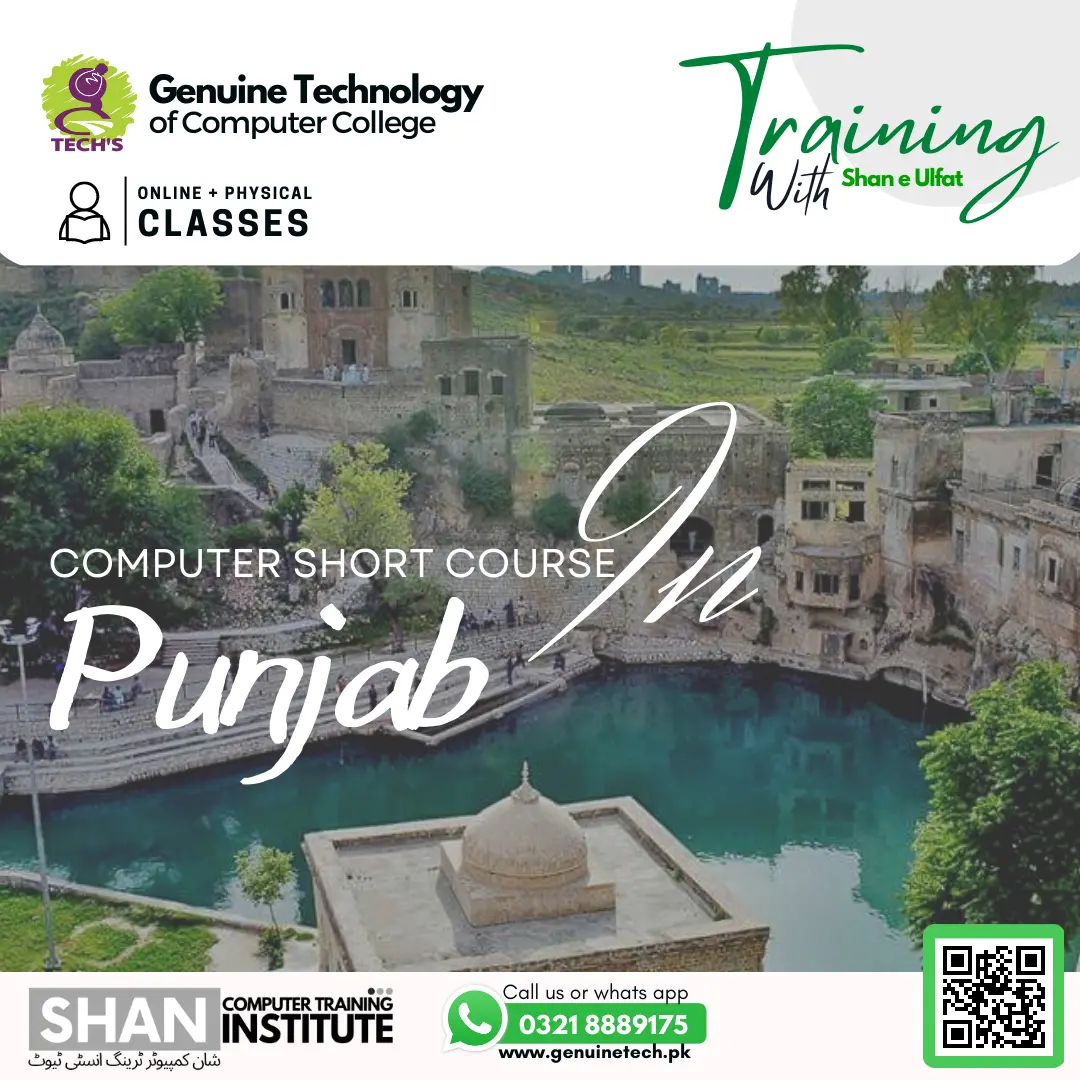 There are many short courses in Genuine Technology of Computer Technology that you can take to enhance your skills and knowledge. These courses are typically designed to provide you with practical, hands-on experience and can vary in length from a few days to several weeks.
Web Designing: These concise courses focus on equipping you with the skills to build websites using HTML, CSS, and JavaScript. You'll learn the art of designing web pages, developing responsive layouts, and incorporating interactive elements into your site.
AutoCAD: AutoCAD is a computer-aided design software utilized by engineers, architects, and designers to craft 2D and 3D designs. By enrolling in AutoCAD courses, you can master the tools and techniques necessary for creating intricate architectural or engineering designs.
In an AutoCAD short course, you can learn how to create technical drawings, edit and modify designs, and use various tools and features to enhance your designs.
Graphic Designing: In a graphic designing short course, you can learn how to use software such as Adobe Photoshop and Illustrator to create visual designs for different media platforms. You can learn how to create logos, banners, brochures, and other marketing collateral.
Website Designing: Website designing short courses teach you how to design and create websites using HTML, CSS, and other web technologies. You can learn how to create responsive designs that work well on different devices and platforms.
Website Development: Website development short courses teach you how to create and maintain dynamic websites using programming languages like JavaScript, PHP, and Python. You can learn how to create database-driven websites and integrate different APIs and web services.
Computer Hardware & Software: In a computer hardware and software short course, you can learn about the different components of a computer system, how to assemble and troubleshoot computer hardware, and how to install and configure the software.
Computer IT: A short course in computer IT encompasses a wide range of topics within the realm of computer technology. It delves into areas such as computer networking, operating systems, database management, and cybersecurity.
Basic Networking: In a basic networking short course, you'll gain a solid understanding of the essentials of computer networking. This includes learning about different network topologies, protocols, and security measures.