Laptop Repairing Trainings - Course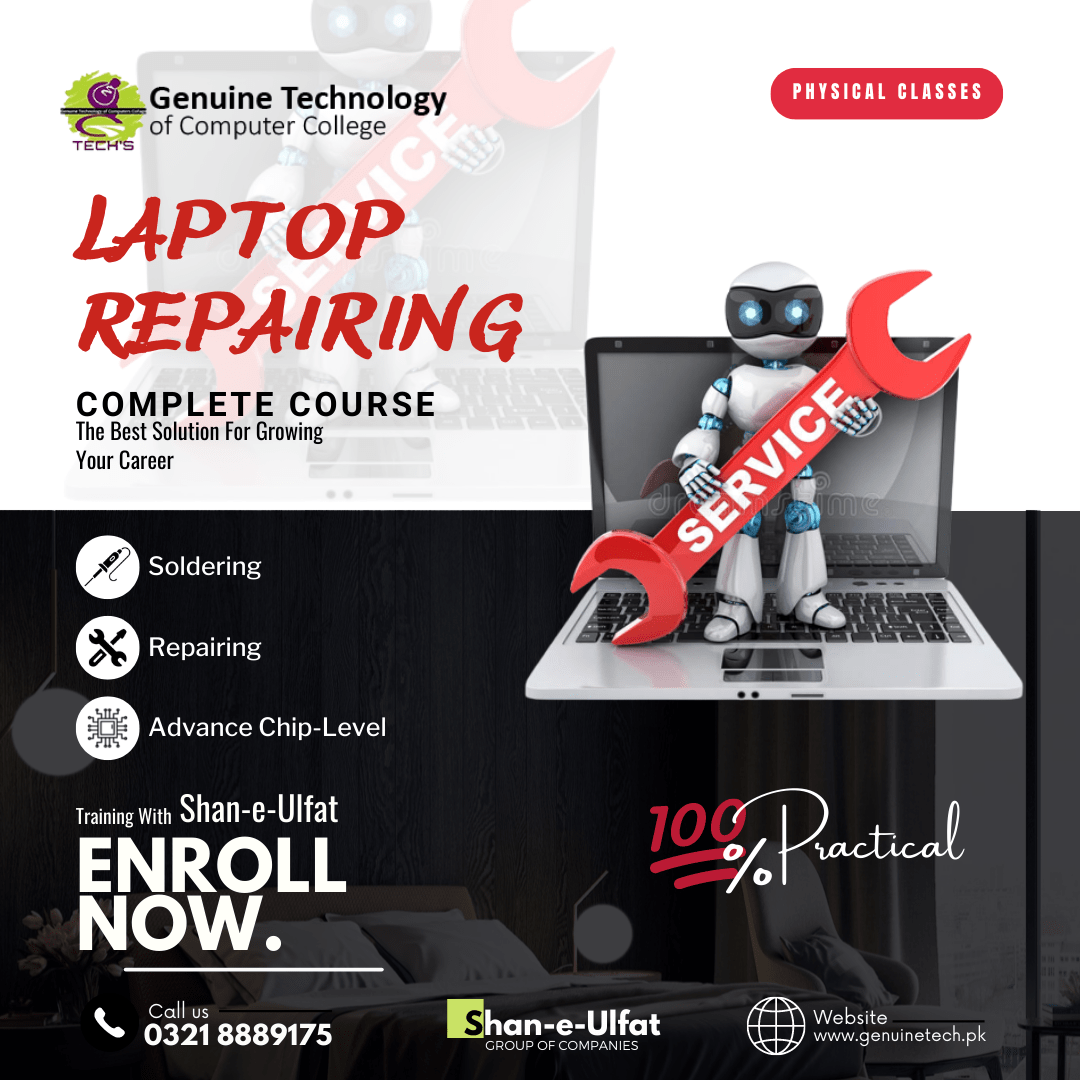 The curriculum of this course can be customized to align with the specific requirements of the institution. It can be further enriched by integrating practical training and lab work. It is crucial to allocate sufficient time for students to hone their skills, apply their knowledge, and gain valuable experience through hands-on projects, lab work, and potential internships with local repair shops or businesses. By offering such opportunities, students can develop their expertise, enhance their problem-solving abilities, and acquire real-world experience, ensuring they are well-prepared for their future endeavors in laptop repair and maintenance.
I. Introduction to Laptop Repairing
A. Overview of laptop hardware components
B. Understanding laptop operating systems
C. Basic troubleshooting techniques
II. Laptop Hardware Repair
A. Laptop disassembly and reassembly
B. Identifying laptop hardware problems
C. Repairing/replacing laptop hardware components
D. Testing and diagnosing laptop hardware issues
III. Software Troubleshooting
A. Overview of laptop software issues
B. Identifying laptop software problems
C. Repairing laptop software issues
D. Testing and diagnosing laptop software issues
IV. Networking and Internet Connectivity
A. Introduction to laptop networking
B. Identifying network and internet connectivity issues
C. Configuring network and internet settings on a laptop
D. Troubleshooting network and internet connectivity issues
V. Data Recovery and Backup
A. Understanding laptop data storage and recovery
B. Data backup and recovery methods
C. Recovering lost or corrupted data from a laptop
D. Creating data backup and recovery plans
VI. Maintenance and Upgrades
A. Laptop maintenance best practices
B. Preventive maintenance tasks for laptops
C. Upgrading laptop hardware and software components
D. Identifying when to upgrade laptop components
VII. Business and Customer Service Skills
A. Introduction to customer service skills
B. Managing a laptop repair business
C. Developing customer relationships
D. Creating effective communication strategies with customers
VIII. Final Project
A. Students will apply the skills learned throughout the course to diagnose and repair a laptop.
B. Present their findings and provide a report on their repairs and findings.