CorelDRAW Graphic Suite Training in Lahore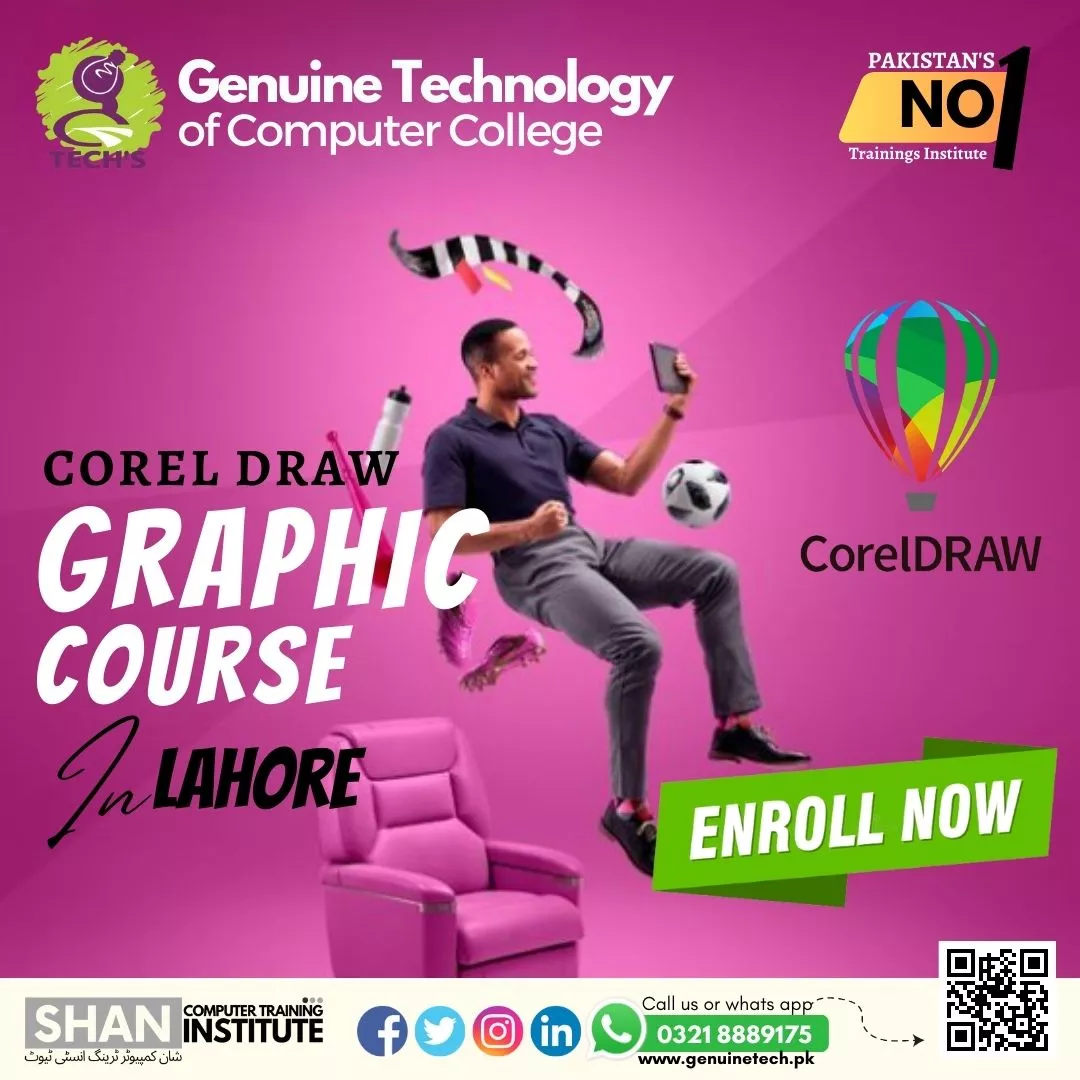 Best Graphic Design Courses in Lahore
Graphic design is the method of composition, demonstration, and digital photography. This modern product includes signs, photos, and messages that are established and composite to perform visual content thoughts and texts. Genuine Technology is one of the top ranking for Best Graphic designing institutes in Lahore.
Importance of graphic designing
The significance of graphic designing is somewhat which deduct promotion & and fascinates you. It plays a significant part in today's latest represent international conditions and became an essential portion of any company and opportunity. The course is significant for the artificial demonstration of the theme. A better design should actually convey the mail of the transmitter to the focus public using different tools of visual representations contact to approach brands.
Benefits of graphic designing training course
Graphic design assists you in the following paths:
It improves sales
Determine a company name
Create kindness in the market
Communicate a brand's messages
Combine the employees
Promote proficiency
Enhance conviction strength
Intelligibility guidance
Why learn graphic design?
Graphic design has a hugely immense part to complete the latest aggressive company atmosphere. Businesses require adjustment of graphic designers to create magnificent selling supplies broacher design making, business cards design making, stationary design making and so many, etc.
Do you know that? What is Graphic Designing?
Institute that provides complete knowledge about graphic tools.
Training must follow the hands-on technique so you can get a proper focus on graphic designing
Institute provides the best training through the experienced and professional level of people who are in this field.
Graphic designing tools must be market–directed on freelancing and other platforms as well as in local marketing.
Why should attend?
The graphic designing course is designed to support the need of beginners as well as professional graphic designers. Who hopes to improve their talent for artwork in order to design more attractive and delightful layouts of pages. Graphic designing ideal field for those people who are interested in making design, different art, and computer graphics.
Course Outline
We are providing different plans for training with certification. The ability in this huge kind of plan makes freelancing practically possible. Following is the list given below of our plans and project:
Adobe Photoshop:
Introduction to Adobe Photoshop
How to use Adobe Photoshop
Bitmap vs. vectors
Resolution and quality issues
Viewing / opening documents
Toolbar
The most commonly used palate
Adobe Illustrator
What is Illustrator?
Introduction
Understanding vector graphics
Setting Preferences
Exploring the panels
Illustrator interface
Creating and saving workspaces
CorelDRAW
Introduction to CorelDRAW
Welcome screen + workspace tour + overview
Vector vs. bitmap
Customizing the page layout
Working with multiple pages
Using snap to + guidelines
Graphic Design Software
Our course collection all the most recent necessities which are essential for a Graphic Designer to become an exceptionally expert. It includes Adobe Photoshop, Adobe Illustrator, CorelDRAW, and page.
Graphic Designing Short Courses in Lahore
Graphic Designing Short Courses Institute in Lahore Genuine Technology Fee cost for Graphic Designing fee is much more affordable but the offers best study hours (Theory & practically). In contrast to this ordinary practice, we charge less cost and deliver income back to more learners. Learning Graphic Designing is not tough, however, it does not need an inventive mind, learning of thinking, and capability of art & design. Graphic Designers need to be tolerant to practice consistently and regularly. You must have the desire to learn this inventive course.