Networking Essentials Training
Computer Networking Fundamental Training Hub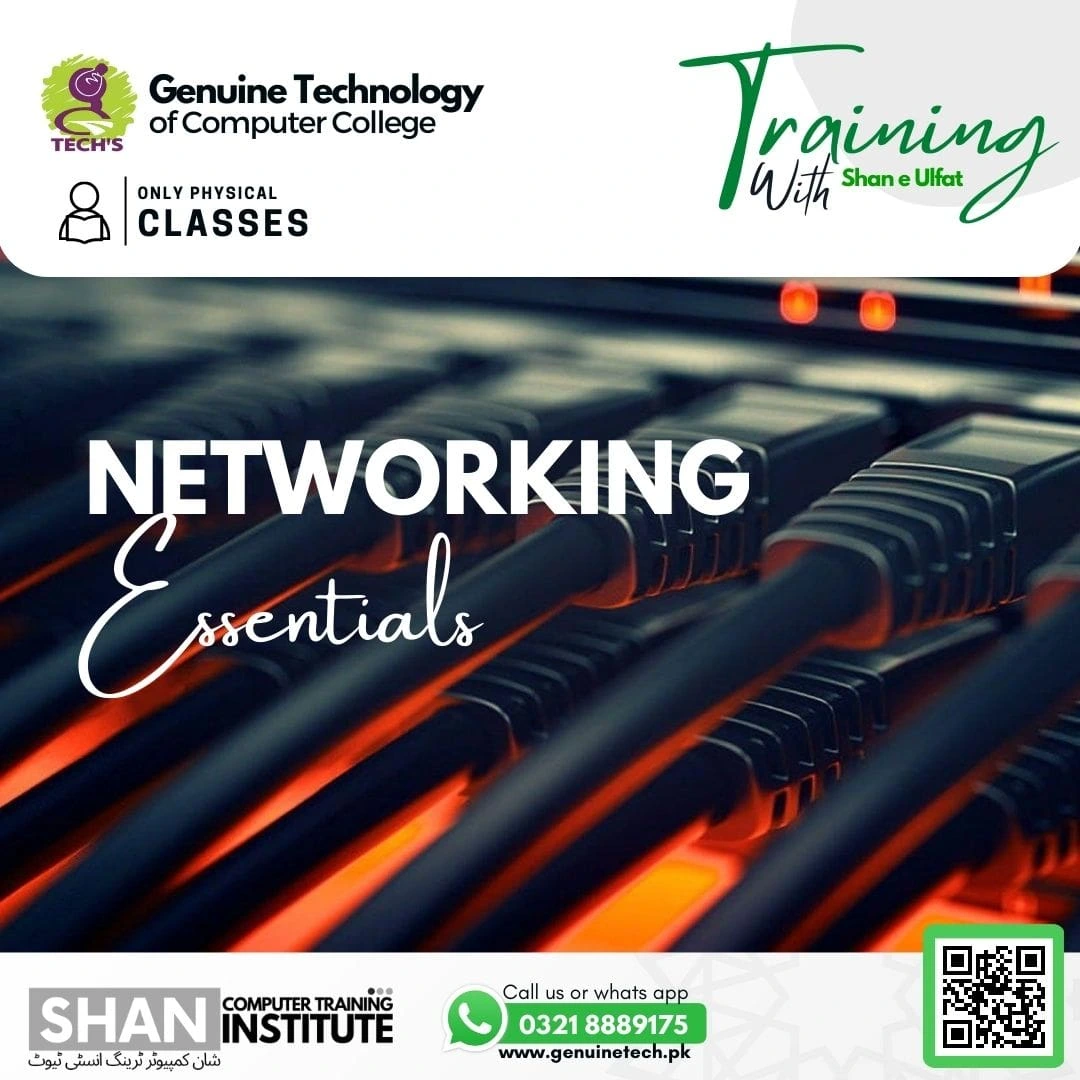 Computer Hardware Fundamentals
Physical Essential of Networking
Networking Component
Hardware Networking
Cable Networking
Wireless Networking
Cabling
Networking Topologies
Computer Software Fundamentals
Logical Essential for Networking
Software for Networking
TCP/IP Protocol
IP Address 4 versions
IP Address 6 versions
Data Sharing
Resource Sharing
Data Sharing
Administrator Configuration
Active Directory
DNS
DHCP
Sharing and Security
Security Management
User Account Management
Disk Quota Management
Network Monitoring
Utilities
Network
The system in which two or more two computers are limited together so that electronic communication can be made is called Network. And such processing in which we create such a system is called Networking.
Electronic Communication
Data Sharing
Resource Sharing
Categories of Network
Novell Networking
Windows Networking
Linux Networking
Different Between Novel Networking and Windows Networking
Novell Networking We need a Hard disk drive only in the server computer we do not need any Hard disk drive in any workstation. Computers used for workstations normally boot from a LAN card. It's used for 16-bit of the operating system.
Windows Networking We need a hard disk drive for all computers of a windows network. Normally workstation server Boots from a Hard disk drive. It's used for 16-bit, 32-bit, and 64-bit operating systems.
Type of windows networking
LAN (Local Area Network)
WAN (Wide Area Network)
MAN (Metropolitan Area Network)
DAN (Desk Area Network)
SAN (Server Area Network)
CAN (Controller Area Network)
PAN (Personal Area Network)
Basic windows networking
A local Area Network can be used in a small area called LAN. Wide
Area Network that can be used on a large area is called WAN.
POST power on self-test as we turn on the computer it checks all the attached components with it, such process is called POST.
Operating System OS is a special kind of program that provides an environment for all components of a computer to work is called operating System.
Physical Essential for Networking
The components of a Network are also known as "nodes" or "Network nodes".
A Network can have the following nodes.
Server
Workstation, Clint
NIC controller
Ethernet switch, HUB
Bridge
Repeater
Router
Server: The computer Machine which contains a large amount of Memory and Storage capacity is called a server. Server Machine may contain two or more than two processing in number Workstation All computer
NIC Controller stands for Network Interfacing Card. An electronic device that is used to produce links with a computer is called a NIC controller. This device is usually built into Mother Board. It means all the computers on a Network must have a NIC controller.
HUB / Switch the electronic device which provides a connectivity environment for two or more two computers is called HUB/switch. Normally they are available in 8 ports, 16 ports, 24 ports, 64 ports HUB, and switch.
Different Between HUB / Switch
HUB Let's suppose there are 10 computers in a network
A1, A2, A3, A4, A5, A6, A7, A8, A9, A10 Computer "A1" and computer "A3" (Transmission) Computer "A7" and computer "A5" (Transmission) It means using HUB only one Transmission can perform at the same time.
Switch If two or more two electronic communication contains start at once, then it can process at once called a switch.
Repeater The electronic device which receives a weak signal Remove distance arranges us and forwards it is called Repeater. In the field of telecommunications, refers to an electronic device designed to receive a signal and amplify or re-transmit it at a greater level or higher power. It acts as an intermediary between the source of the signal and the destination, enhancing the strength and reach of the transmitted signal.
The bridge is an electronic device that can provide a connectivity environment between two different Networks it also looks like an Ethernet switch.
Router the electronic device which provides a connectivity environment for two or more two networks is called Router.
Network Cable
A Network cable is a medium through which a computer can make electronic communication.
It is an Introduction in their form
Twisted Pair Cable
Coaxial Cable
Fiber Optics
Twisted Pair Cable
A Network cable in which 4 pairs of wires in which every pairs wires as twisted to each other, and covered in a jacket is called a twisted pair cable. There are two types of Network cables. UTP (unshielded twisted pair cable) STP (Shielded twisted pair cable).