Amazon Virtual assistant Course in Lahore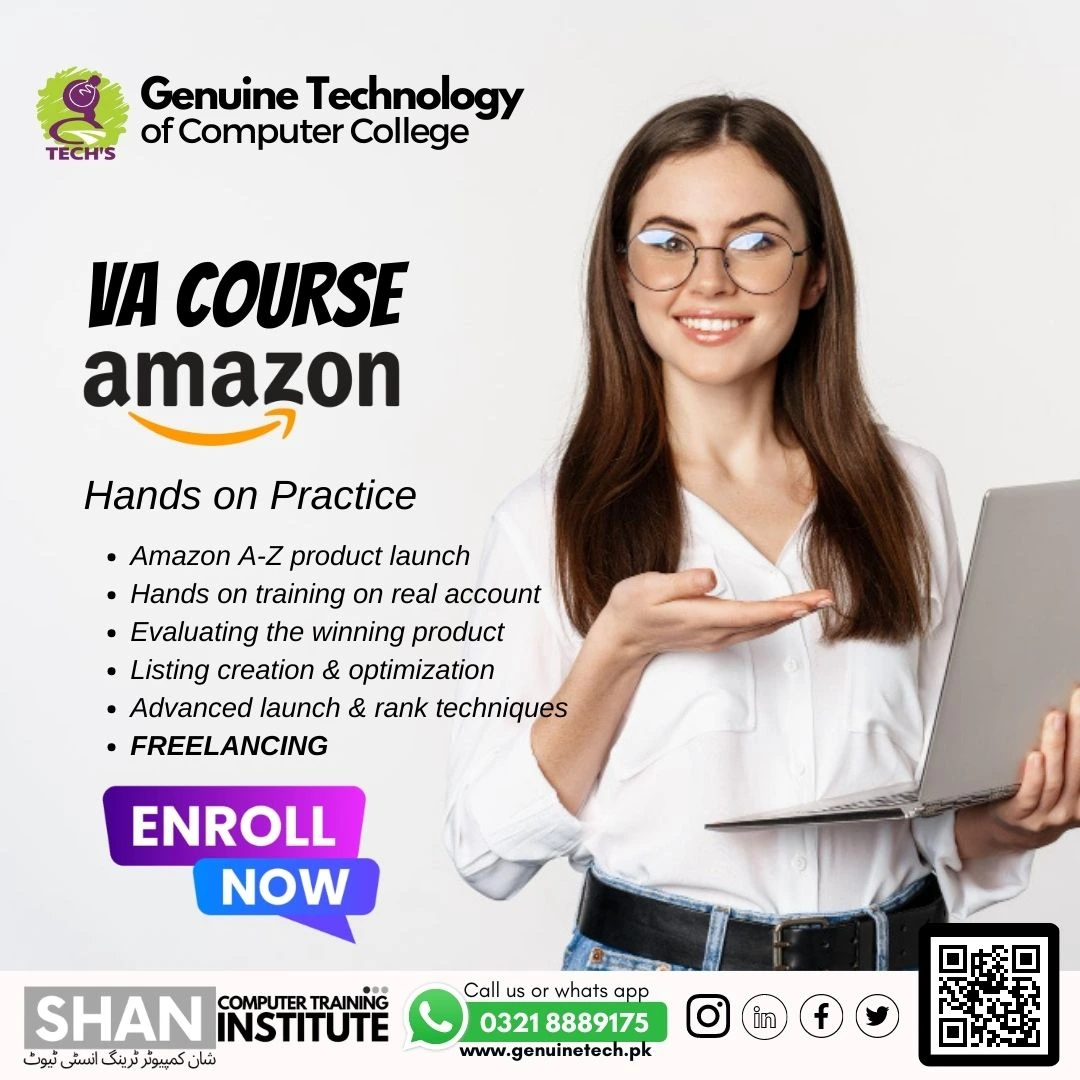 An Amazon Virtual Assistant course can be a great way for individuals to learn how to become successful virtual assistants for Amazon sellers. Here are some possible topics that could be covered in a comprehensive course:
Introduction to Amazon Virtual Assistant Services
Amazon Seller Account Setup and Management
Product Listing Optimization and Keyword Research
Order Fulfillment and Shipping Management
Inventory Management and Reordering Strategies
Customer Service and Communication
Amazon Advertising and Marketing
Performance Metrics and Data Analysis
Time Management and Task Organization
Best Practices for Working with Amazon Sellers
Each of these topics can be expanded upon with practical activities and assignments that allow students to apply the concepts they learn. For example, students could create a product listing and optimize it for search engine visibility, or manage orders and inventory for a real Amazon seller. They could also learn effective communication strategies and develop a plan for managing their time and workload.
Overall, an Amazon Virtual Assistant course can provide valuable knowledge and skills for individuals who are interested in becoming virtual assistants for Amazon sellers. By exploring different aspects of Amazon seller account management, product listing optimization, customer service, and advertising and marketing, students can gain an understanding of how to effectively support Amazon sellers and help them achieve success. Additionally, they can develop skills like time management, communication, and data analysis, which can be valuable in a variety of industries and careers.
Amazon FBA (Fulfillment by Amazon) and FBM (Fulfillment by Merchant)
Using Amazon Seller Central and Other Amazon Tools
Amazon Product Research and Sourcing
Amazon Product Launch Strategies
Amazon Review and Feedback Management
Amazon Branding and Brand Registry
Amazon Account Health and Performance
Amazon Returns and Refunds
Working with Virtual Teams and Freelancers
Scaling Your Amazon Virtual Assistant Business
These additional topics can help students gain a deeper understanding of the intricacies of Amazon seller account management and how to provide effective support to Amazon sellers. They can also learn about the different strategies and tools available to Amazon sellers to help them succeed, such as Amazon FBA and brand registry. Additionally, they can explore best practices for managing returns and refunds, working with virtual teams and freelancers, and scaling an Amazon virtual assistant business.
By incorporating these topics into an Amazon Virtual Assistant course, students can develop a well-rounded skill set and gain the knowledge and confidence they need to be successful virtual assistants for Amazon sellers.