Best Digital Marketing Seo Course Outline Institute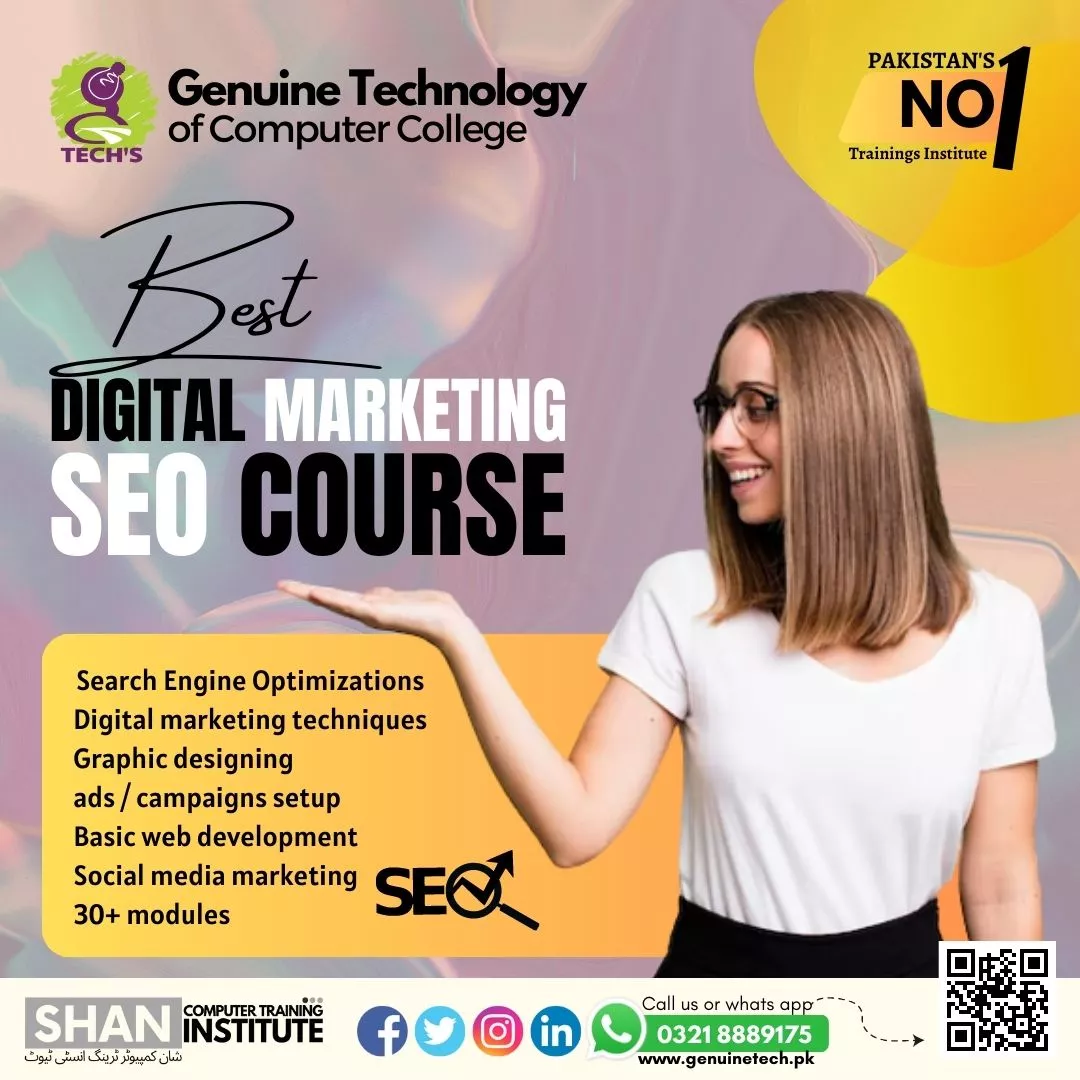 A Digital Marketing SEO course typically covers the following topics:
Introduction to Digital Marketing:
Overview of digital marketing and its benefits
Types of digital marketing channels and strategies
Setting digital marketing goals and objectives
Search Engine Optimization (SEO):
Understanding the basics of SEO and its importance
Keyword research and analysis
On-page optimization techniques
Off-page optimization techniques
Technical SEO
Local SEO
SEO for mobile devices
Tools for SEO analysis and reporting
Pay-Per-Click (PPC) Advertising:
Overview of PPC advertising and its benefits
Setting up and managing PPC campaigns
Keyword research for PPC
Creating ad copy and landing pages
Bid management strategies
Ad performance analysis and optimization
Social Media Marketing:
Overview of social media marketing and its benefits
Setting up and managing social media accounts
Creating and curating content for social media
Building a social media following
Social media advertising and targeting
Social media analytics and reporting
Content Marketing:
Overview of content marketing and its benefits
Creating a content marketing strategy
Creating and optimizing content for SEO
Creating and promoting content for social media
Measuring content marketing success
Email Marketing:
Overview of email marketing and its benefits
Creating email marketing campaigns
Creating and optimizing email content
Managing email lists and subscribers
Email marketing analytics and reporting
Analytics and Reporting:
Understanding web analytics and its importance
Setting up and managing analytics accounts
Measuring and analyzing website traffic
Tracking and measuring digital marketing campaigns
Creating reports and dashboards
In summary, a Digital Marketing SEO course covers the basics of digital marketing, including SEO, PPC advertising, social media marketing, content marketing, email marketing, and analytics and reporting. Students will learn how to create and manage digital marketing campaigns, optimize content for search engines and social media, track and measure campaign performance, and report on digital marketing success. By the end of the course, students should be able to apply digital marketing strategies and techniques to promote their own business or work for clients.