Social Media Marketing Course in Lahore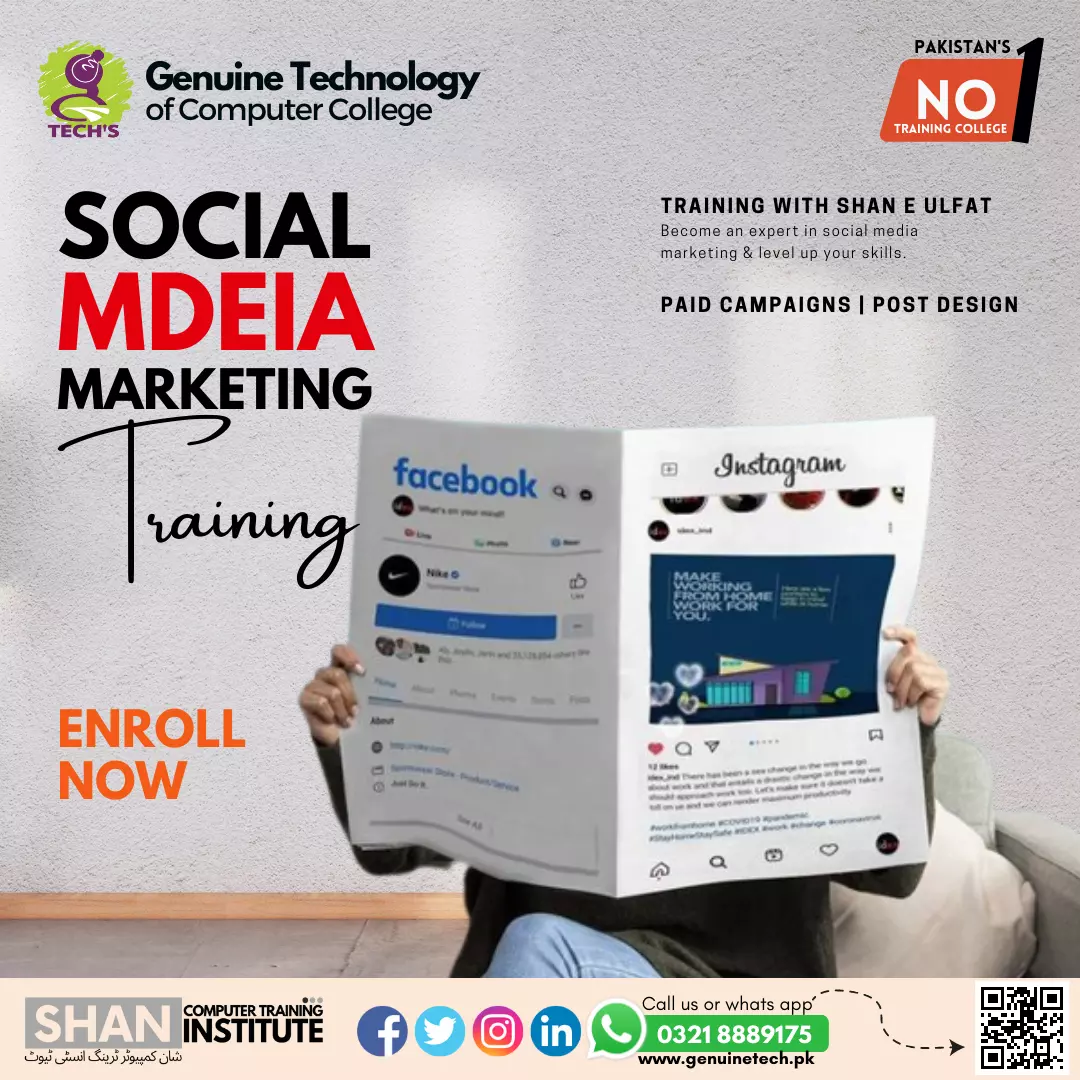 Social media has become an integral part of digital marketing, and businesses today need to master social media marketing strategies to stay ahead of the competition. A social media marketing course in Lahore can help individuals and businesses learn the latest techniques, tools, and trends in social media marketing.
The course will cover topics such as social media strategy, content creation and curation, social media advertising, community management, and analytics. Students will learn how to create effective social media campaigns that engage their target audience, drive traffic to their websites, and increase conversions.
The course will also cover popular social media platforms such as Facebook, Instagram, Twitter, LinkedIn, and YouTube, and how to use them effectively to achieve marketing goals. Students will learn about the latest social media marketing tools and software to automate tasks, schedule posts, and track analytics.
Additionally, the course will cover the latest trends in social media marketing, such as influencer marketing, social commerce, and video marketing. Students will learn how to leverage these trends to create effective social media marketing campaigns.
Overall, a social media marketing course in Lahore is an excellent investment for individuals and businesses looking to improve their social media presence, increase engagement, and achieve their marketing goals.
Social media marketing (SMM) is a rapidly growing industry and has become an essential part of the digital marketing landscape. It involves using various social media platforms to promote a business, increase brand awareness, engage with customers, and drive traffic to a website. The goal of social media marketing is to build a strong online presence, establish credibility and trust, and ultimately increase sales and revenue.
A comprehensive SMM course in Lahore covers all aspects of social media marketing, from strategy development and content creation to analytics and optimization. The course typically includes training on various social media platforms such as Facebook, Instagram, Twitter, LinkedIn, and YouTube, as well as tools and techniques for measuring and analyzing social media performance.
In a typical SMM course, students learn how to develop a social media strategy that aligns with their business goals, target audience, and budget. They also learn how to create engaging content, optimize posts for search engines, use paid advertising to increase reach, and measure the success of their social media campaigns.
The course may also cover advanced topics such as social media crisis management, influencer marketing, and social media advertising. Students may get hands-on experience by creating and managing social media accounts for real businesses, analyzing data to measure success, and presenting reports to clients.
A good SMM course should be taught by experienced instructors who have worked in the industry and can provide practical tips and insights. It should also provide students with access to the latest tools and resources used in the field, as well as opportunities for networking and mentorship.
After completing an SMM course in Lahore, students can pursue a variety of careers in the digital marketing industry, including social media manager, content creator, digital strategist, and influencer marketer. They can work in a variety of industries, including e-commerce, healthcare, hospitality, and fashion.