Wordpress Course in Islamabad
Learn WordPress Course Islamabad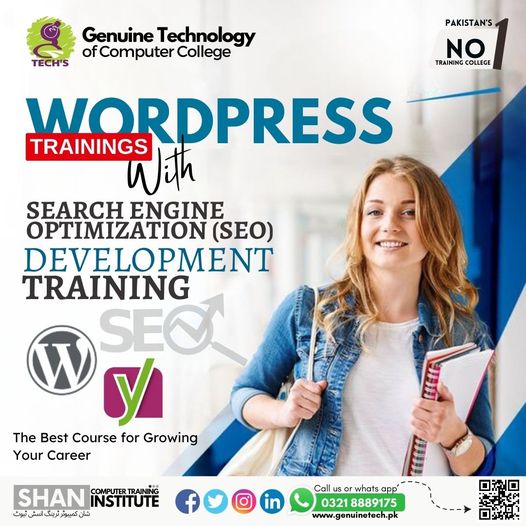 If you are looking to offer a comprehensive WordPress course in Islamabad, here are some topics that should be covered in the course:
Introduction to WordPress: An overview of WordPress, its features, and its benefits.
Setting Up a WordPress Site: Installing WordPress, configuring settings, and setting up a website.
WordPress Themes: Understanding WordPress themes, how to select and install a theme, and how to customize a theme.
WordPress Plugins: Understanding WordPress plugins, how to find and install plugins, and how to customize plugins.
Creating Content: Creating posts and pages, working with media files, and managing comments.
Search Engine Optimization (SEO) for WordPress: Understanding the basics of SEO and how to optimize a WordPress site for search engines.
WordPress Security: Understanding WordPress security, implementing security best practices, and securing a WordPress site.
WordPress Maintenance: Updating WordPress, plugins, and themes, backing up a WordPress site, and troubleshooting common issues.
The course should be taught by experienced instructors who are up-to-date with the latest WordPress trends and techniques. Additionally, students should be given opportunities to apply the concepts they learn through hands-on exercises and projects. By providing a comprehensive WordPress course, students will have the skills needed to create and manage professional-quality WordPress websites for themselves or their clients.