Fast Track Digital Media Marketing Course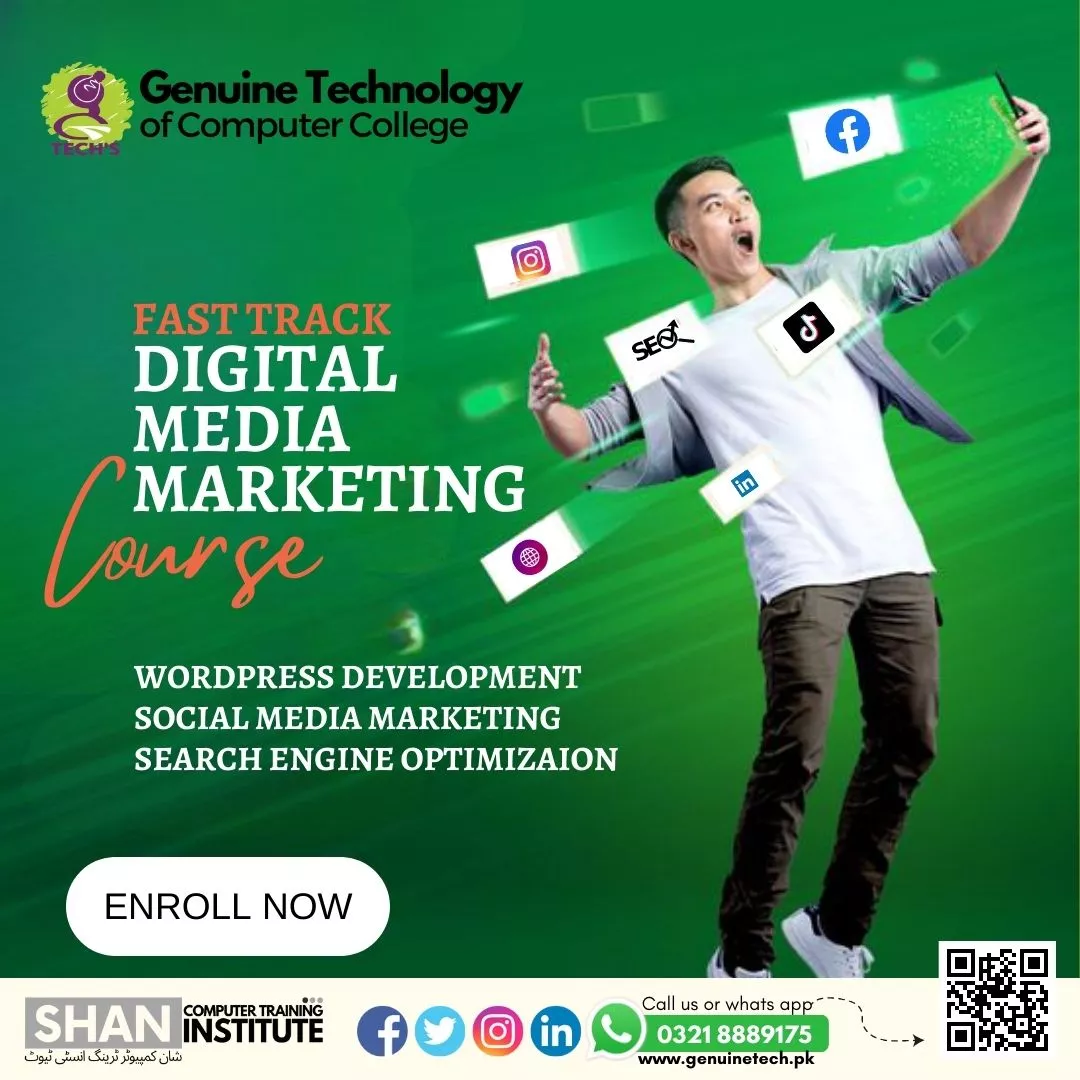 Fast Track Digital Media Marketing Course can be designed to cover a range of topics and subtopics, but some of the most important ones include:
Introduction to Digital Media Marketing: A brief overview of digital media marketing, its benefits, and the current state of the industry in Pakistan.
Search Engine Optimization (SEO): Techniques for optimizing websites and improving their visibility in search engine results pages (SERPs) using relevant keywords, on-page and off-page optimization, link building, and other methods.
Pay-per-click Advertising (PPC): Overview of paid advertising models, such as Google AdWords and Facebook Ads, as well as the basics of keyword research, ad creation, targeting, bidding, and optimization.
Social Media Marketing (SMM): The use of social media platforms, such as Facebook, Twitter, Instagram, and LinkedIn, to promote businesses, build brand awareness, engage with audiences, and drive traffic and sales.
Content Marketing: Creating valuable and engaging content, such as blog posts, articles, infographics, videos, and podcasts, to attract and retain customers, build credibility, and establish thought leadership.
Email Marketing: Best practices for creating and managing email campaigns, including list building, segmentation, personalization, automation, A/B testing, and tracking.
Analytics and Reporting: Tools and techniques for tracking and measuring the success of digital media marketing campaigns, including web analytics, conversion tracking, ROI calculation, and reporting.
Mobile Marketing: Strategies and tactics for reaching and engaging mobile users, such as mobile websites, apps, SMS, and push notifications.
E-commerce Marketing: Techniques for promoting e-commerce businesses, optimizing online stores, and increasing sales through various channels, such as SEO, PPC, social media, email, and mobile.
Emerging Trends and Technologies: The latest developments and innovations in the digital media marketing industry, such as artificial intelligence, voice search, chatbots, virtual and augmented reality, and blockchain.
A fast-track digital marketing course is an intensive program designed to provide students with the necessary skills and knowledge to become competent digital marketers in a short period of time. This type, of course, is typically offered over a period of weeks or months, rather than a traditional semester-long course. The program is aimed at people who are looking to learn digital marketing quickly and efficiently, without having to commit to a long-term program.
The course typically covers a wide range of topics, including search engine optimization (SEO), pay-per-click (PPC) advertising, social media marketing, email marketing, content marketing, and analytics. Students will learn how to use various digital marketing tools and platforms to create and implement effective campaigns that achieve specific business objectives. One of the key benefits of a fast-track digital marketing course is the accelerated learning process. Students can quickly gain the skills they need to become competent digital marketers, without having to spend years studying. The program is also ideal for working professionals who want to enhance their digital marketing skills without having to take extended time off work.
Another benefit of a fast-track digital marketing course is the hands-on learning experience. Most courses offer practical exercises and projects that allow students to apply what they have learned in real-world scenarios. This approach helps students to develop practical skills that they can apply to their current or future roles.
In summary, a fast-track digital marketing course is a great option for people who want to gain digital marketing skills quickly and efficiently. The course is ideal for individuals who are looking to enhance their digital marketing knowledge, change careers, or start their own digital marketing business.