Wordpress Course in Lahore
WordPress in Lahore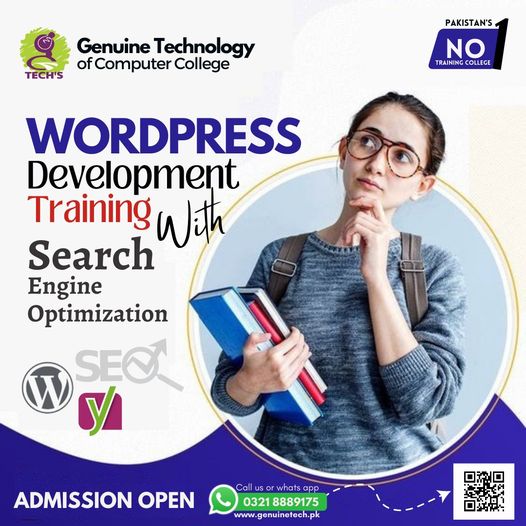 If you are looking to offer a WordPress course in Lahore, here are some topics that can be covered:
Introduction to WordPress: An overview of WordPress, its features, and its benefits.
WordPress Installation: How to install WordPress on a local server and on a web host.
WordPress Themes: Understanding WordPress themes, how to install them, and how to customize them.
WordPress Plugins: Understanding WordPress plugins, how to install them, and how to use them to enhance website functionality.
Creating Posts and Pages: Understanding how to create and manage posts and pages, including adding media like images and videos.
Customizing WordPress: Understanding how to customize WordPress, including customizing the header, footer, sidebar, and menus.
Search Engine Optimization (SEO): Understanding how to optimize WordPress for search engines, including on-page optimization, off-page optimization, and keyword research.
WordPress Security: Understanding how to secure WordPress, including keeping WordPress and plugins up-to-date, using strong passwords, and using security plugins.
WordPress Backup and Restore: Understanding how to back up and restore WordPress websites, including using plugins and manual backup methods.
WordPress E-commerce: Understanding how to create an e-commerce website using WordPress, including setting up an online store, adding products, and managing orders.
The WordPress course should be taught by experienced instructors who are up-to-date with the latest WordPress trends and techniques. Additionally, students should be given opportunities to apply the concepts they learn through hands-on exercises and projects. By providing a comprehensive WordPress training program, students will have the skills needed to create effective websites using WordPress.